Korea Herald, Lifestyles, News: Sanirang Alpine Climbing Adventures
By Matthew Lamers
Sanirang Alpine Networks' Peter Jensen-Choi says rock climbing is not only a great way to explore the unseen in Korea, but that many enjoy the team-building aspect of the sport.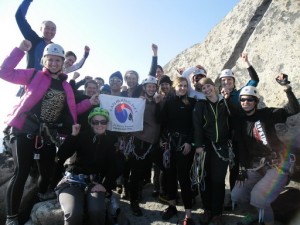 "Climbing is a great medium for expats and Koreans to get acquainted because it's an exciting, challenging and unusual experience that bonds people through its integral multitude of activities," he said. "Not only does climbing require a lot of trust on both ends of the rope, but it also entails a lot of communication and interaction; and unlike the language barrier between English and Korean, to a certain degree, climbing has a language of its own that goes beyond certain language barriers; for example, passing signals through a rope."
Sanirang is Korean for "mountain together." The company is privately owned and is designed to expand the accessibility of climbing to foreign and Korean enthusiasts to Korea's finer alpine environments. They offer multiple courses' clinics, guided climbs' group outings and programs for rock and ice climbing. They mostly service the Seoul area, but some courses are in Gyeongi Province during the winter ice climbing season.
Though Sanirang Alpine Networks primarily caters to expats, Koreans are always welcome. About 85 percent of the clients are expats.
SAN meets up every Wednesday for the free clinics — once in the morning from 9 a.m. to noon and from 3:30 to 6:30 p.m. during the regular rock climbing seasons, which are between the monsoons and winter. SAN also holds formal group outings every two or three weeks. Aside from the two six-week Climbing School programs offered every season, everything else, such as private courses, company outings, and custom outings, is privately booked.
"I love being outdoors, I love climbing and have always enjoyed teaching things — even since when I was little … since moving to Korea many years ago, climbing has simply, gradually and completely become a way of life for me. So, naturally, it just made sense to make the transition from being a college English instructor to professional rock climbing instructor," said Jensen-Choi.
Programs start at 62,500 won for a half-day lessons, 82,500 won for day group outings, and on upwards to 275,000 won for private full day instruction or guiding. The Climbing School Program is advertised at 850,000 won.
Jensen-Choi described the atmosphere as very friendly, laid-back and very international. "People from all over the world join in on the excitement. At the end of the day, the climbing ends up not really being about the climbing so much as it is about just going out and having some fun with very cool people. In the end, people are connecting with each other about all sorts of different things — anywhere from swing dancing to where to get what, where."
High-season in Korea for rock-climbing is usually April to mid-November with the exception of the monsoon season. Ice-climbing is the choice of activity in the winter — usually from late December to early March.
"Climbing is not just extremely stimulating both mentally and physically, it's an extremely healthy way to enjoy oneself, learn about oneself, learn about a different aspect of Korea, meet really cool people and go home with the satisfaction of having exposed oneself to something new and different," said Jensen-Choi.
By Matthew Lamers (mattlamers@heraldm.com)
http://www.koreaherald.com/lifestyle/Detail.jsp?newsMLId=20100615000441