Do things right the first time around and learn from our experienced professionals. Ice and rock climbing is undoubtedly an inherently dangerous activity. We take educating and training our clients seriously because there is no compromise or exception when it comes to avoiding the potential hazards involved with climbing. We take great strides to raise our clients' overall level of crag and safety awareness. We take great pride in teaching intelligent and efficient safety systems and the skills, techniques, principles and strategies that comprise them.
SAN LLC offers numerous levels of climbing instruction from sport' trad and ice climbing in the Seoul and outlaying GyeongGi Province regions. Courses are not limited to intermediate or advanced climbing enthusiasts' but offers numerous courses for all levels and interests related to climbing. All courses are designed to maximize your time out at the crag through the efficient management and cohesive progression of safety principles and skill sets presented and taught.
We also understand how difficult learning skill sets might be' all courses are taught in a patient' open and friendly environment to help empower and enable clients to take these skills out to the crag on their own.
For more information or further consultation about the courses we offer and/or the course that best suits your interests, contact us via email at sanirang.info@gmail.com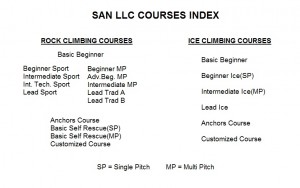 Please click here on our Rental & Rates for more detailed information about our rates.
Equivalent technical skill sets of previous relative courses are required of clients to participate in the appropriately desired course. Skill sets reviewed will be taught at the discretion of the instructor's best judgement.
Sanirang Alpine Networks LLC requires the signing of a release of liability form by all participants of any SAN LLC related clinic' program' course or service and reserves the right to deny service to those who do not.