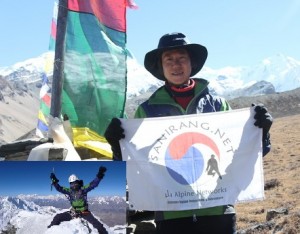 Associate SAN Guide/Instructor Chi-young Ahn and his partner, Chang-ho Kim, have won this year's Asian Piolet D'Or for putting up a first ascent on Himjung(7140m) in the Peri Himal Range early last fall on September 20, 2012. The peak was considered the highest unclimbed peak in the world until now and was opened for climbing in 2002 by the Nepali governemt to commemorate the recognition of its name, Himjung, which was previously only known to and by the locals as a sacred mountain.
The two climbers spent a total of four nights and five days completing their venture to the top and back down. They did this climb in a single push and in pure alpine style, enduring sub-zero temps of up to -22° Celsius and working through difficult chossy overhung sections of climbing before reaching the summit. To read more about this climb, pick up the 6th KAN Bi-Annual Journal or read the detailed personal account of Chi-young Ahn in this year's AAJ featured climbs.
Chang-ho Kim has completed thirteen of the fourteen 8,000 meter peaks without the aid of oxygen and has only Everest remaining to complete this major quest. He has also made first ascents on Batura II and several other 5,000 and 6000m peaks. Chi-young Ahn has been on Lhotse, Lhoste Shar, climbed in Pakistan, China and put new routes up on the southwest face of West Lobuje of the Khumbu Himal, and most recently up the northeast face of Teke Tor in Kyrgyzstan's Aksai Range.