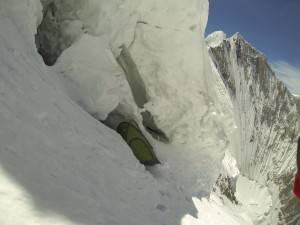 Associate SAN LLC Guide/Instructor Chi-young Ahn and his partner, Nak-jong Song, won this year's Asian Piolet D'Or for putting up a first ascent on Gasherbrum V(7147m) in the Karakorum last summer on July 25, 2014. The peak had previously been attempted five times, but without success.
After their first failed attempt via GV's east face, the two climbers spent a total of two nights and three days completing their climb on the south face. They did this climb in a single push and in pure alpine style, enduring sub-zero temps and working through difficult chossy and unprotectable steep snow sections of climbing near the top before reaching the summit.
To read more about this climb, pick up the 9th KAN Bi-Annual Journal or read the detailed personal account of Chi-young Ahn in this year's AAJ featured climbs titled, "KOREAN DIRECT: Gasherbrum V's First Ascent". The feature has also been published from the world's oldest existing alpine club's journal at the front of the The Alpine Journal(U.K.) titled,"First Ascent of Gasherbrum V". The feature can also be found in Spanish via Campobase magazine. The climb is probably the most internationally highlighted pure alpine style climb done by Koreans having also appeared on-line via Alpinist magazine, Gripped magazine, and planetmountain.com, just to name a few.
To read the AAJ feature about their climb, visit this link:
http://sanirang.net/2015/08/san-llc-associate-guideinstructor-gv-first-ascent/
Chi-young Ahn has been on Lhotse, Lhoste Shar and summitted Everest. He has also climbed in Pakistan, China, European Alps and put new alpine style routes up on the southwest face of West Lobuje of the Khumbu Himal, Teke Tor in Kyrgystan's Aksai Range, Amphu I. He also has received the Asia Piolet D'Or for his pure alpine style ascent of Himjung in the Peri Himal Range.