21st SAN LLC Spring Climbing School
SPRING 2017 – Sundays, April 9, 16, 23, 30 & May 7
Sanirang Alpine Networks LLC will begin its 21st Climbing School Program every Saturday, April 8, 15, 22, 29 & May 6 located in the Bukhansan National Park for five consecutive weeks at the flat rate of 880,000KRW. Family, U.S. Military, Early Bird and SAN Alum discounts go for 660,000KRW each.
CLIMBING GEAR SETS ARE RENT-FREE!
All are welcome to join! Each week introduction and review of skills will be taught and practiced in preparation for the final fifth week's summit graduation climb to the top of Insu Peak. This program is for those completely new to climbing, those who have experience, but would like to review, learn more or simply just hang out on the rock. To get a better idea of what to expect, you can view pictures via: http://sanirang.net/rock-albums-beg-rock-school-galleries/.
The sessions include learning basic rock climbing skills on slab' crack and face. Technical skills learned are the basic principles behind climbing safety' knots' top-rope climbing and belaying' abseiling and very basic technical multi-pitch skills. The course is designed to learn and practice the fundamentals of climbing in a friendly, safe and laid-back environment. The school also gears clients up for the final multi-pitch climb to the top of Insu Peak via different routes in the final outing. In total' the five week climbing school program covers all skills up to the SAN LLC Beginner Course and touches on the very basic aspects and skills of the Multi Pitch Course.
From the weekly rendezvous point, Ui Sports climbing shop located in UiDong, cabs will be hailed up to the DoSeon Temple rotary where the main trailhead begins. Cab rides up to the temple are 2,000KRW per person up and 1,000KRW per person back down to Uidong from temple rotary.
Hiking approach times vary from between half an hour to an an hour depending on crag destination for that session and overall group speed. Approach trails to crags are typically steep and very direct in style, This is a fantastic way to experience and see some of Korea's more unique outdoor locations along with getting into great shape by the end of the fifth week.
Camping is not required for the summit climb; however, all participants MUST BE AT THE CAMPGROUND BY NO LATER THAN 5:30AM, due to sunrise start times in order to avoid climbing traffic. Camping is free and will also be offered, but not required, each Saturday evening by no later than the third week and will typically meet at the Ui Sports climbing shop at 6:30 p.m. Campers can optionally go dutch with the instructors on the evening provisions or bring their own as they please. Campers might prefer to bring 70+L plus backpacks to pack in all of the necessary gear and provisions for camping.
Camping gear such as sleeping bag, pad, and bivvy sac, may be rented for 25,000KRW as a set or individually(e.g. sleeping bag- 15,000KRW, pad- 5,000KRW, bivvy sac- 5,00K0KRW). After every Sunday climbing sessions' all are welcome to join together for Dutch-pay food and beer with your instructors and peers. The final graduation summit climb will be followed by graduation Dutch-pay dinner/beer ceremony where each participant will get a free SAN LLC t-shirt and climbing school certificate of completion.
Minimum number of 3 participants is required by the payment deadline in order to initiate program. Maximum number of 6~8 participants will be accepted. In the events requirements are not met, all deposits and payments will be refunded within the following week of the payment deadline.  To learn more, please directly contact us at sanirang.info@gmail.com and visit our homepage.
21st SAN LLC Spring Climbing School Tentative Itinerary
Every Sunday: April 9, 16, 23, 30 & May 7
SESSION 1 – Bukhansan National Park: Intro to Gear' Crag Safety' Rope-work' Basic TR Belay, Slab Climbing Techniques.
SESSION 2 – Bukhansan National Park: Review Skills, TR Belay & Abseil; Intro to Multi-pitch skills .
SESSION 3 – Bukhansan National Park: Review Skills, Slab & Crack Climbing & Multi-Pitch Practice
SESSION 4 – Bukhansan National Park: Review & Practice MP Climb w/Overhang Abseil.
SESSION 5 – Bukhansan Graduation Summit Camp, Climb & Abseil
Rendezvous Points & Dates & Directions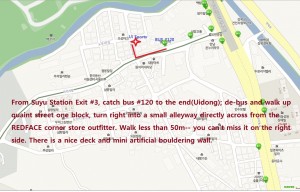 Sundays, April 9, 16, 23, 30 & May 7 – Bukhansan National Park. Meet at Ui Sports Climbing Shop at 7:30a.m. Take Subway Line #4 to Suyu Station(414), go out Exit #3, cross left onto the bus stop island and catch Bus #120 toward Ui-dong to the very end of the line(about 10~20 minutes depending on traffic). De-bus, walk uphill on the quaint main street about a block(roughly 50 meters) and take right into a small alleyway across from the REDFACE outfitters corner shop. Walk down less than a block and you can't miss the Ui Sports climbing shop on the right with mini outdoor climbing wall and deck.
Registration, Rates & Payment Confirmation
The climbing school program costs only 880'000KRW total per each individual. Participants may pay via Paypal or the SAN LLC Hana Bank account.
Please contact SAN LLC directly via sanirang.info@gmail.com about our U.S. Military, Family and Alumni discounted rates. US Military, Family & SAN LLC discounts apply ONLY as follows:
–US Military ID is required and must be confirmed to be eligible US Military discount.
–At least five previous SAN LLC outings, courses or climbing school qualifies any participant as a SAN Alum.
–At least two family members join with at least one or more participants under the age of 19 to be eligible for discount.
For those paying via Paypal must pay the additional Paypal 4.2% transaction fee. SAN LLC does not compensate or account for currency exchange rate differnces for PP transactions(i.e. 1.00USD = 1,000KRW). We strongly encourage clients to make all deposits via the Korean banking systems to save on the currency exchange rate differences and Paypal transaction fees.
The initial deadline for payment and registration is on Thursday, March 30th, and a maximum of only 6~8 students may join. The school requires a minimum of three clients to commence and if this is not reached, a complete refund will be made. For more questions about payment options, please read our FAQ's link here: http://sanirang.net/faqs/ or contact us directly at sanirang.info@gmail.com. For more information on the climbing school, please visit this link: http://sanirang.net/programs/rock-climbing-school/ or contact SAN LLC directly at sanirang.info@gmail.com.
Direct payments can be made to the following account:
Bank Name: Hana Bank
Account Number: 476-910014-63204
Account Holder: ㈜산이랑알파인넷웍스(Sanirang Alpine Networks LCC)
All participants are required to either fill out our on-line registration form here:
http://sanirang.net/​register/registration-form/
Or provide the following minimum information here: FULL NAME, DOB, PASSPORT # and/or ARC # and/or US Miliatry ID
This form and/or information is also for your benefit in order to process a temporary insurance policy for the very unlikely occurrence of injury, accident and/or even death.S AN LLC is not only one of the few climbing outfitters in the world that insures clients' but also includes insurance coverage as part of the original payment. SAN LLC reserves the right to refuse service to any client who does not provide us the aforementioned information and/or doesn't sign our Release of Liability form presented before the start of the first session.
SAN LLC Climbing Gear
Sanirang Alpine Networks LLC understands how difficult buying gear in Korea can be. We also understand how expensive the necessary basic gear can be in order to learn how to climb, so because of this, SAN LLC provides the required gear sets free of charge exclusively for the Rock Climbing School only. This includes the following gear:  helmet, harness, and belaying set(belay device, 2 locking carabiners and tether); however, this doesn't include climbing slippers, sleeping bags, bivvy sacs and foam sleeping mattresses. Climbing slippers can be rented for 10,000KRW each. Sleeping bags may also be rented for 15,000KRW, mattress for 5,000KRW and bivvy sac for 5,000KRW per night for the camping graduation climb. All clients are encouraged to bring or buy their own gear!
Rain or Shine Policy
Location and routes are tentative and subject to change depending on weather conditions' climbing traffic and other factors. Sessions are never cancelled; however' in the event of deteriorating or very poor weather conditions and SAN deems the conditions to be unsafe' a pleasant day hike along one of the many hiking tracks in the BukHanSan National Park or a technical skills workshop indoors will be held at an indoor climbing or bouldering gym where additional bouldering and sport climbing techniques and skills will be taught.
Refund Policy
An initial non-refundable 50% deposit is required to reserve your spot. Cancellations must be made one week prior to the start date of the intended and scheduled climbing school program in order to receive a complete transfer refund; otherwise, the deposit is completely forfeited to SAN LLC. In the event that a full-payment of deposit has been made and the participant cancels within the week of the first scheduled climbing school session, 50% of their full payment deposit will be forfeited and the remaining 50% will be refunded via transfer. Pro-rated rates and refunds are not rewarded for the climbing school program in the event that the participant knowingly or unknowingly misses any one of the scheduled outings
*Insurance coverage is inclusive and applies to all courses, guided climbs and climbing school programs.
**Late-comers are welcome to join as late as the second week of instruction; however' there is no pro-rated discount from the original course cost and deposits are due no later than Wednesday before the intended Sunday of joining up as late as the second Sunday session. The cost remains 880'000KRW plus total and the additional 4.2% Paypal service charge for paying via PP. Despite joining late' the remaining sessions allow plenty of time to make up for the skills missed in the first session. For more information on this' please contact SAN directly at sanirang.info@gmail.com.